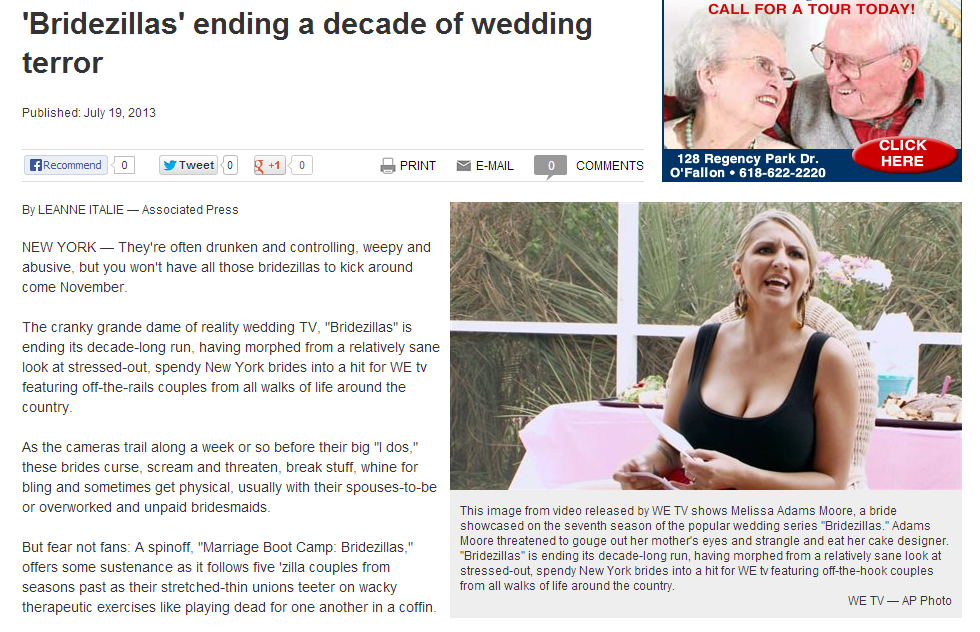 BND.com reported that the reality TV show Bridezillas is finally marching out of the wedding aisle this November 2013, allowing viewers to bid farewell to the stressed out and furious brides the show was known for. Over ten long years, this show went from being a peek into bridal stress to a hit tribute to cuckoo couples. Considering that most newlyweds-to-be only have to worry about getting a fun Buffalo DJ to provide the right music or a wedding photographer who can take good pictures, this show will always be remembered as the show that revealed the crazier side—the female side, apparently—of getting married.

The bottom line: when things don't go perfectly, brides become sulky. Laura Halperin, executive producer, summarized the show's message best in saying that sometimes, women "take things just a little too seriously". No one can blame them, really, because it is their big day, and ugly dresses, lame music, and incompetent photographers have no place in it. Bridezillas showed brides doing everything from breaking stuff to threatening to eat cake designers, and this is apparently the formula the public loved.
For avid fans of the show, the crazy couples won't go completely off-air as there is a spinoff in the form of Marriage Boot Camp: Bridezillas. This show will bring back couples from past seasons as they try to stabilize marriages that started out rocky. At the very least, this spinoff will give couples at home something that will make them reminisce on their own weddings and early married years—either for better or for worse. For yet unmarried couples still looking to tie their own knots, their show has just begun.
Grooms, especially, wonder how to avoid infuriating a stressed out bride. Of course, people always say that everything must be "perfect", but what this really means is to get quality wedding services. Every little detail must be overseen by someone qualified to do the job, from the cooking right down to the photographers who will capture the memories of the couple's special day. Four simple words can help people tame the angry bridezilla: hire the right people.
Take DJ services for example. If you're looking for great DJs in Buffalo, NY, interview several DJs instead of going with the first one you find. You should also look for services with state-of-the-art equipment and people who know how to use these equipment, such as those DJs from Direct Entertainment who have had hundreds of weddings and events under their belt. You want guests to take the dance floor and stay there, and only a DJ who has full control of the music can do that.
There are so many things that can go wrong in a wedding that would stress out the bride, and Bridezillas may be signing off, but in real life they'll still be around, preying on the next mess-up to pounce on. Future grooms can only hope to be spared from the carnage.