Here's some news that will have you New Yorker couples calling a fun Buffalo DJ and wracking your brains for cool wedding ideas. Liverpool-born Jennifer Jones and Rob Blackmore's wedding was really pretty dead—and yet, people loved every moment of it. This is what Mirror news writer Ben Rankin shares about a couple in UK who tied the knot in a brutally awesome zombie-themed wedding.
This interesting nuptial was the fruition of childhood dreams and a Facebook competition organized by the makers of Dead Island Riptide, a new zombie computer game. While any other bride would have been horrified at the thought of an undead wedding, even a free one, 27-year-old Jennifer was thrilled. As for 31-year-old Rob, it was a natural thing to do after being a zombie fan ever since he saw his first zombie movie in the Eighties.
With more than 250 guests, the unorthodox One Mayfair wedding was a surprisingly "alive" celebration with music courtesy of Mariachi Mexteca and a roomful of "zombified" guests. Luckily/unluckily, footballer Luis Suarez, who was invited because of a zombie move he made against Branislav Ivanovic, didn't come or he would have gotten a neckful of the bride who promised to tackle and bite him had he shown up.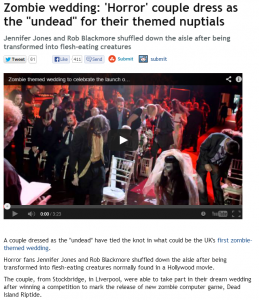 The "weird wedding theme" is no longer an unfamiliar concept, but the ideas people come up with and are willing to try out continue to surprise everyone all over the world. From superheroes to video games, it seems that there are no limits to what people will think of next. For Jennifer and Rob, it just so happened that Dead Island Riptide was their game and, eventually, their wedding theme.
It's a highly unusual theme, yes, but ultimately it's all about giving the couples a wedding that they can enjoy and remember. Asked about her dream wedding, Jennifer confirmed that the zombie wedding was a perfect fit for the couple. She explained, "We wanted to get married on Halloween anyway so it was always going to be a spooky, creepy, weird wedding."
Buffalo NY couples, of course, aren't about to get left behind in the whole quirky wedding trend. One such couple, in fact, even got hitched in a Buffalo Bills-themed ceremony that used game tickets, uniforms, and the whole she-bang. One last tip: if you're looking to spice up your own wedding, you should look to have a good reception, too, by hiring companies such as Direct Entertainment that boast of the coolest DJs in Buffalo NY as well as many other services such as photobooth, videographers, and the like.